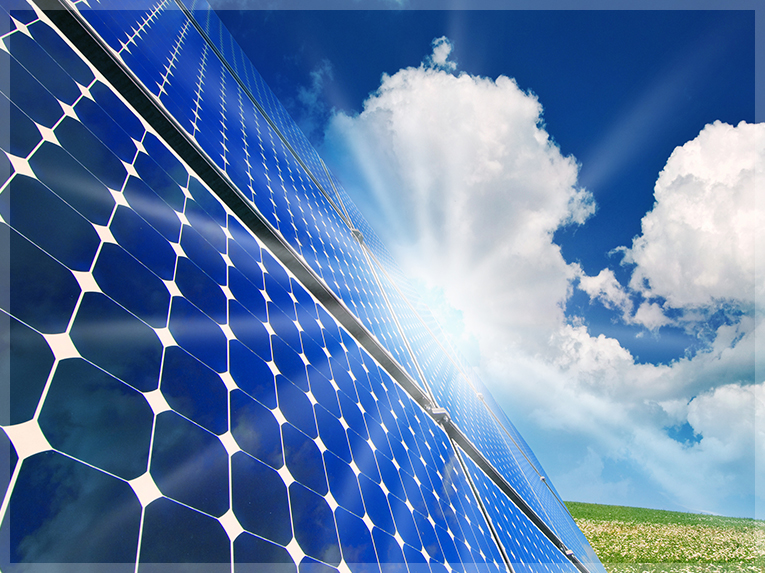 PHOTOVOLTAIC MODULE
A Solar Photovoltaic (PV) Module is a packaged assembly of PV cells that have been wired together to produce high voltage because a single solar cell alone cannot provide a useful output. They are the building block of a solar power generation system as it converts sunlight directly into DC electricity. It is a promising renewable energy technology which helps solve the problem of limited power as produced by solar cells. It constitutes of 36 cell modules, a charge controller, a battery and an inverter. Each module is fully capable of producing 100- 365 watts of DC output power under standard conditions. There are two main types of commercially viable PV Modules available in the market, namely: Crystalline Silicon (with an average efficiency of 10-12%) and Amorphous Silicon (with an average efficiency of 6%). PV cells produce clean, untainted energy that has many useful applications like in, Water pumping, Lighting apparatus, Agriculture, Space Ops., Communications.
With a long and rising list of applications, it comes as no surprise that the price of solar electricity has fallen low enough all over the world to become cheaper than the fossil fuel-produced electricity. With around 100% year-by-year growth, the PV cell industry holds great potential. The United States already more than 100,000 homes whose primary source of energy are the PV systems. Additional associated benefits like- Easy resale, tax incentives, long life-span and unpolluting, it is only a short time before PVs totally replace other forms of power generations.
Looking Forward to Photovoltaic Lighting?
Photovoltaic lighting is something that has caught the attention of many and thereby a steady increase in the popularity of the concept. Photovoltaic lighting not only saves a lot of energy but also is extremely cost effective in nature. This cost effectiveness is one of the major reasons as to why photovoltaic lighting is readily preferred in the recent times. Global Solar is a company based in Netherlands which is a leader in the field of providing solutions of integrator of photovoltaic systems. The services of the company are spread across the world.
Features of the Products
The photovoltaic modules of Global Solar are quite modern and technically advanced so as to produce the best results. Some of the top features of the photovoltaic products from Global Solar as are enumerated below.
The products are designed and manufactured in Europe
The yield of energy is quite high thereby making the product even more useful
The degradation of the products is extremely low and hence lasts for a long duration of time without any effect in its functionality
The photovoltaic products from Global Solar come with ten year product resistance which is highly advantageous
The appearance of each of the products are quite aesthetic which perfectly matches with the area or location of installation
Applications
The photovoltaic lighting from Global Solar has a lot to offer which are as follows.
Photovoltaic street light modules as well as traffic lights modules
Provides photovoltaic lighting solutions for homes, stables, shelters, garages etc.
Photovoltaic road marking lights along with floor lighting y
Photovoltaic garden lights are being readily used by the homeowners
Normally usable photovoltaic portable lights and lanterns for homes, offices etc. n
The photovoltaic modules are also applicable to pedestrian lighting and the pole lights
Thus, it is clear about how useful and widely applicable are the photovoltaic lighting modules from Global Solar.